Spa
Massages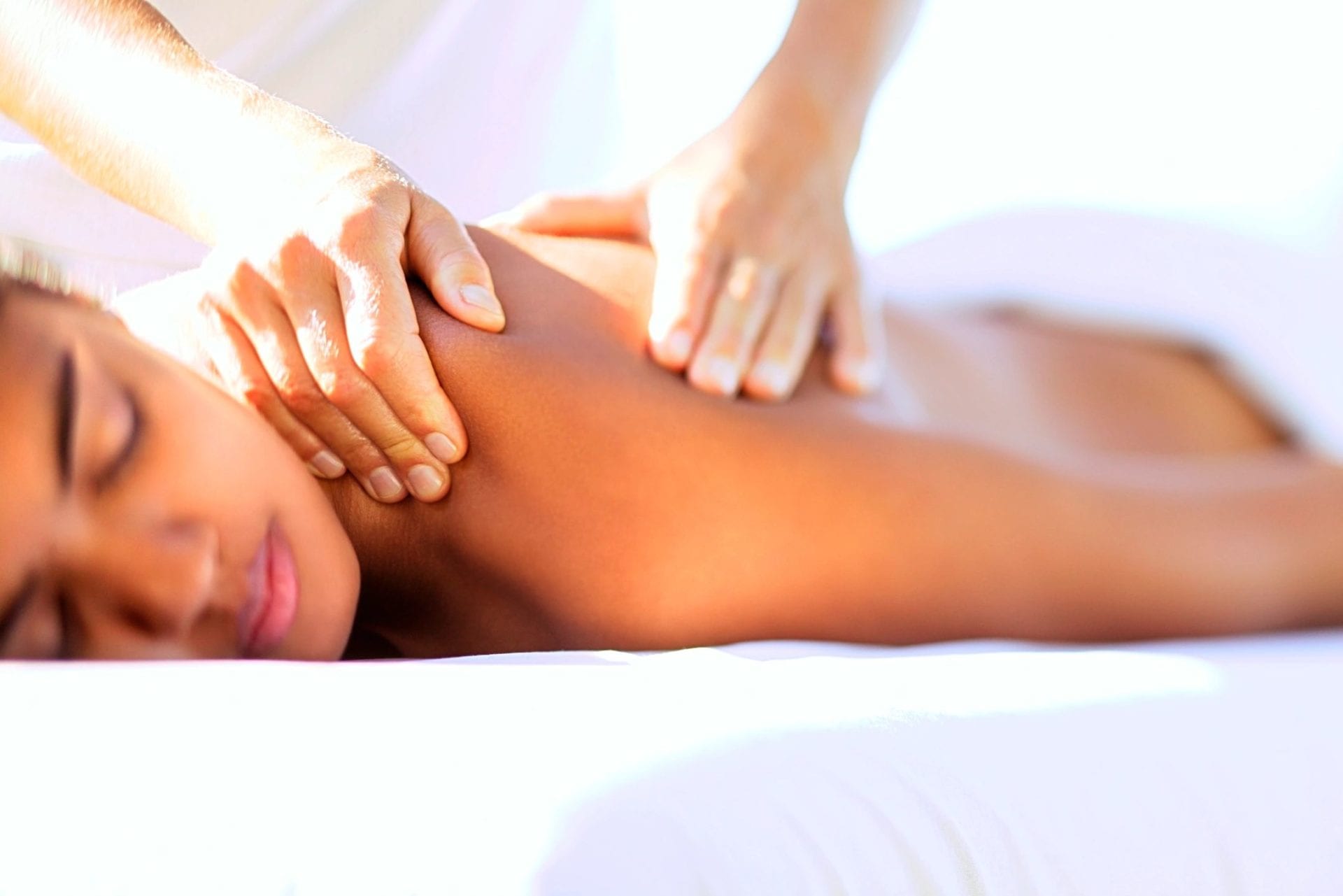 Swedish Massage
Therapeutic full-body massage relaxes, reduces stress and soothes aching muscles. $45 30 min
$75 60 min
$100 90 min
Pregnancy Massage
We offer a pregnancy table that allows the pregnant woman to lie on her stomach. Reduces stress and soothes aching muscles.
$50 30 min
$75 60 min
$100 90 min
Sports Massage
Applies a range of techniques which helps to restore function to muscles and joints. Can do done before or following sporting participation. $50 30 min
$80 60 min
$105 90 min
Couples Massage
Two 60 minute massages performed in the same room. Ideal for husband & wife, mother, daughter, sisters, & friends. $150 60 min
$200 90 min
Injury Massage
Massage is used to increase blood flow to the injured area which helps healing by bringing in nutrients and removing waste products. $50 30 min
$80 60 min
*Hot Stone Therapy
Heated stones are used to provide relief for muscle stress, soothe injuries and help to improve circulation and lymphatic drainage.
$150 90 min.
*Warm Bamboo Therapy
Heated bamboo is used to relieve aches and pains, loosen tight muscles, and improve sports performance. $45 30 min
$75 60 min
$100 90 min
Lomi Lomi Massage
Traditional Hawaiian massage that helps release not only physical tension but also mental, emotional and spiritual blockages. $45 30 min
$75 60 min
Reflexology
Pressure is applied to reflex points in the hands and feet to release blockages that inhibit energy flow. $45 30 min
$75 60 min
Reiki
A gentle hands on healing technique to reduce stress, relieve pain and facilitate healing. $40 30 min
$65 60 min
Infant Massage
With infant massage stimulation of the circulatory, respiratory, and gastrointestinal systems are achieved.
$40 30 min
Spa Jet
Each Session $40
Aromatherapy included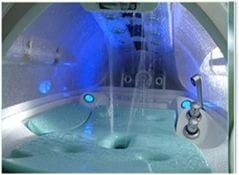 High Heat – 30 Min.
This program is as stimulating and energizing as a jog on the beach. Radiant heat warms your body and increases local blood circulation to a mild aerobic range. The session finishes with a refreshing 360 degree Vichy shower.
Benefits: Emulates the effects of a high heat workout.
Natural Cleansing – 30 Min.
Achieve natural cleansing through the power of Hydrofusion and restore your body's natural balance.
Benefits: Helps the body naturally cleanse itself.
Relaxation/ Stress Release – 30 Min.
Alleviate the stress of the day. Relaxes and quiets the mind and body.
Benefits: Creates harmony for the body. You will emerge from this session rejuvenated and refreshed. Blue color creates a calm and peaceful recharge.
Aquatica/ Rejuvenation – 25 Min.
Become one with water in this invigorating session. 360 degree Vichy shower system will provide a total body massage.
Benefits: Rejuvenation relaxes and tones muscles.
Muscle Care/Relief – 30 Min.
Radiant heat penetrates deeply into the body to maximize results with the assistance of underbody water massage.
Benefits: Facilitates and aids in the temporary relief of localized pain.
Smoothing – 30 Min.
This program helps provide a beautiful sculpted appearance. The session finishes off with an energizing cold/ warm Vichy shower.
Benefits: Smoothes and tones the skin.
Escape/ Revive – 25 Min.
A secret mini-break will whisk you away from the world. This virtual Mediterranean vacation will give you relaxation with moderate heat and invigorating Vichy showers.
Benefits: Increases the effect of calming throughout the body.
Hot- Cold/ Scottish Awakening – 25 Min.
Experience the hot and cold alternating cycles of a traditional Scottish shower to relax and provide a sense of revitalization.
Benefits: Energizes the body.
Skin Care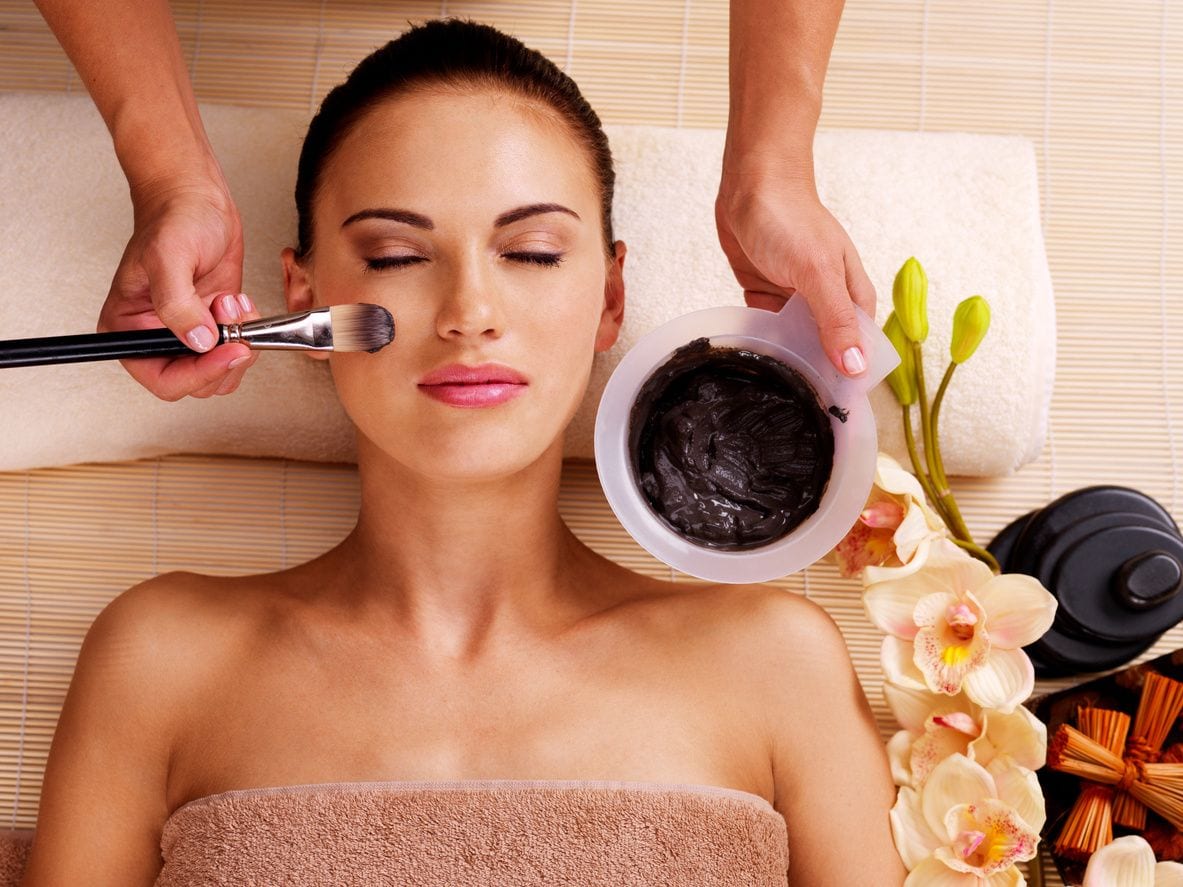 360 Facial Detail
– begins with deep cleansing and exfoliation. Then we apply an aromatic compress followed by a mask and rich moisturizer. Facial massage and neck and shoulder massage included.
$75 1 hour or $50 1/2 hour
Glycholic Peel
– usually done in a series of six. This is a chemical resurfacing that requires no down time. This will also aid in smoothing lines, wrinkles and discoloration. Also great for acne, acne scarring and acne prone skin. This can be done alone or with a 360 Facial. $50
Packages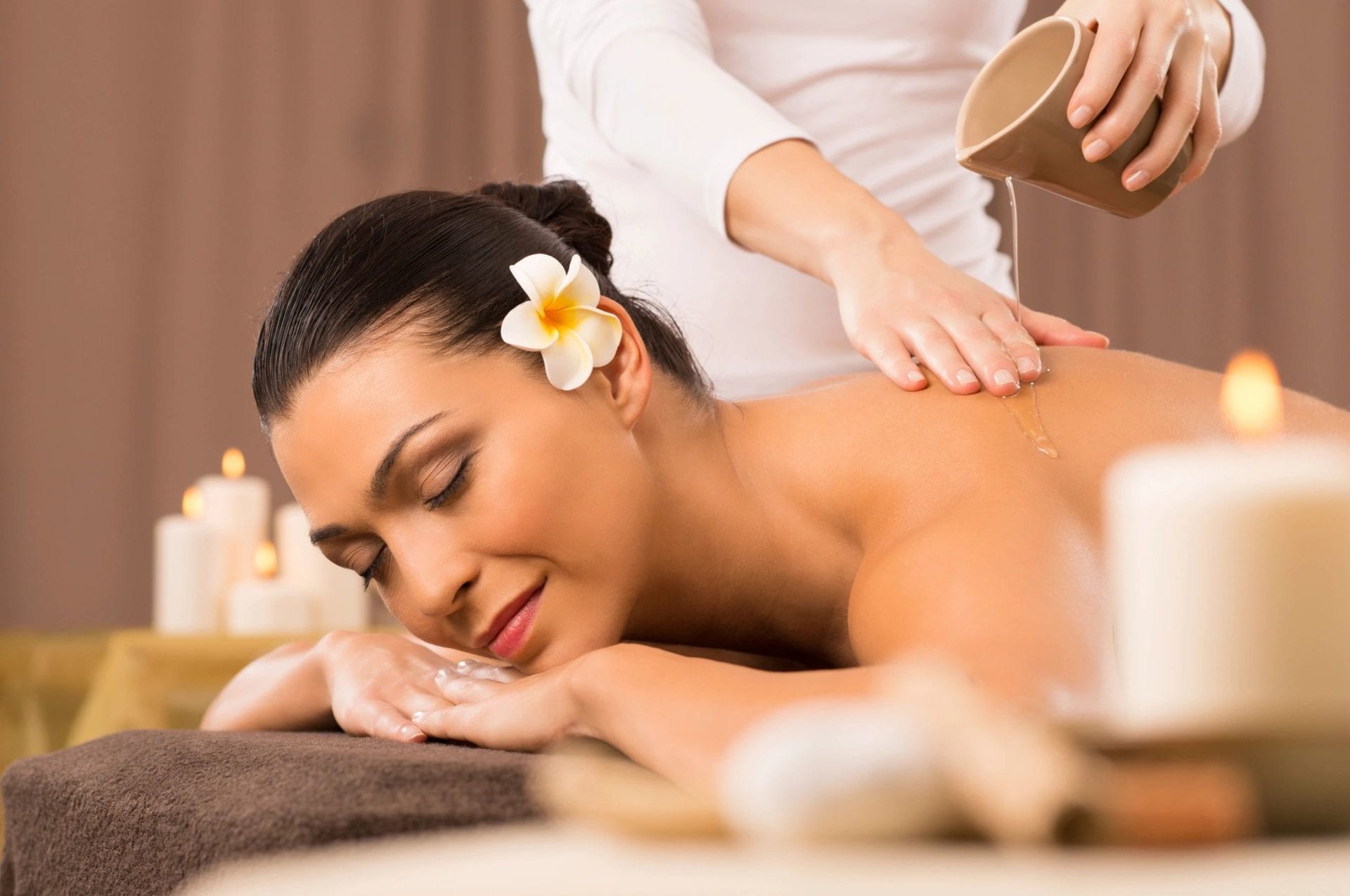 Packages
A deposit of 50% will be required upon scheduling of all packages. Deposit is non-refundable if cancelled within 48 hours.
360 Journey: $300
– 6+ Hours Includes massage, facial, body scrub with Spa Jet, Manicure and pedicure, and lunch.
360 Reflourish: $230
– 4+ Hours Includes facial, body scrub with Spa Jet, manicure and pedicure and lunch.
360 Retreat: $225
– 4+ Hours Includes massage, facial, manicure and pedicure and lunch.
360 Basic: $100
– 1 Hour Includes 30 min massage and 30 min facial.
Add on to packages:
Shampoo/ Style: $30 Arch $12
Spa Jet without Body Scrub: $40 Deduction
Create your Own Package
– If the above packages do not fit your needs, please let us know and we will be happy to personalize one for you with any combination of services including Facial, Massage, Jet Spa with or without Body Scrub and Manicure and/or Pedicure. Lunch may be added to any package over 3 hours of services.
Body Services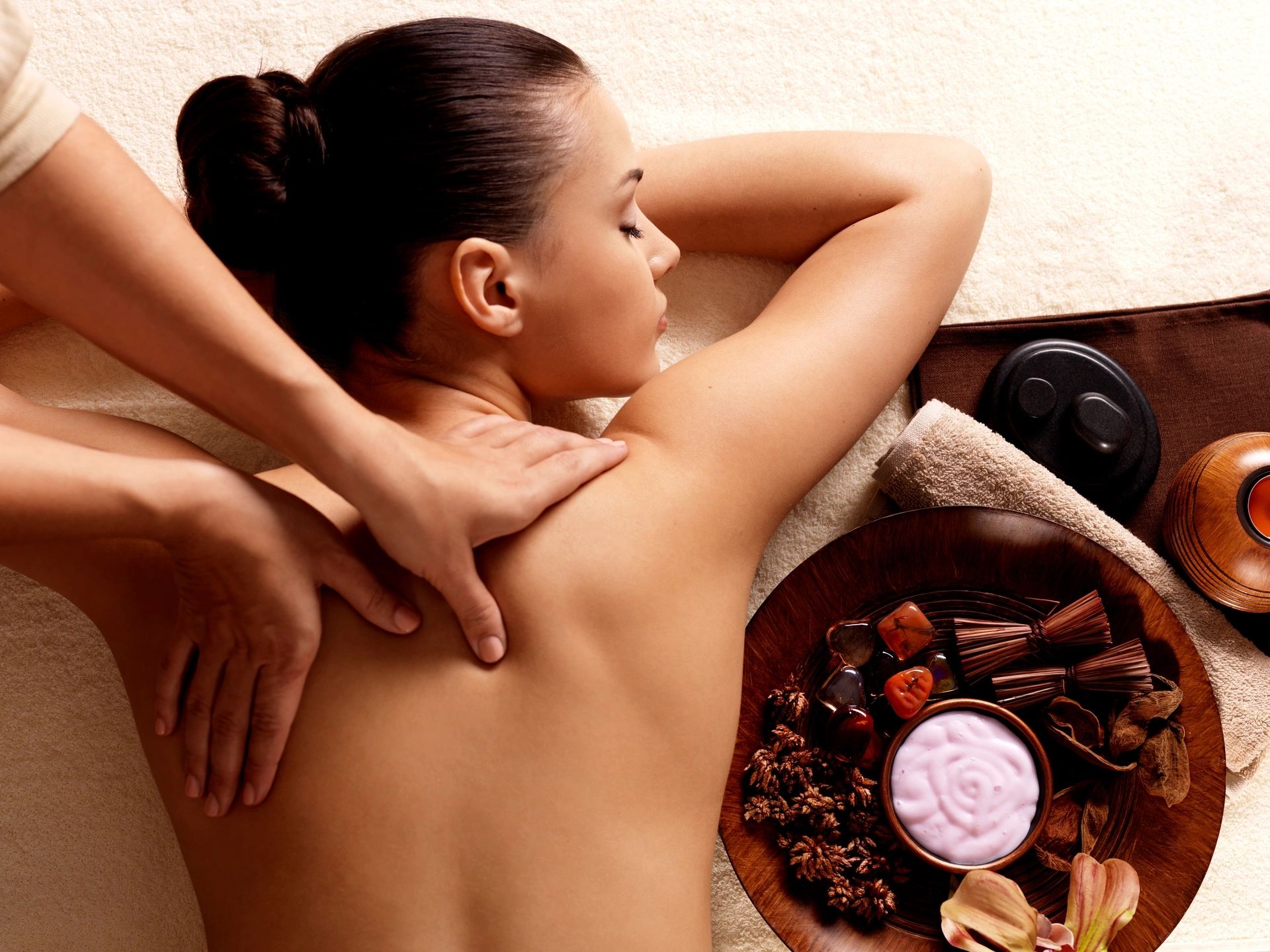 Body Scrub
An invigorating and therapeutic form of exfoliation. A sea salt scrub removes dead skin cells and a rich lotion moisturizes your skin. This service is in conjunction with our Spa Jet and includes the Aquatica treatment.
$80
Body Wrap
Lose inches with a body wrap. Performed on our Spa Jet on a high heat program to intensify the process.
$80
Hanakasumi Massage
This relaxing spa treatment includes a warmed exfoliating cream followed by melted aromatic Shea Butter massage.
$90 75 min
Shirodhara
a unique, blissful therapy that purifies the mind, alleviates anxiety, reduces headaches, and expands awareness.
$50
*Mud/Seaweed/ Aromatherapy Wraps
These wraps exfoliate, detox, hydrate and revive your body. Please specify which wrap you would like when scheduling.
$80
* can be added to any massage
$25 30 minutes